DISC HARROW
While mixing stubble to the soil,this machine treats stubble with its 510 mm discs in the most efficient way. Weeds and late crops grow immediately because of effective compression of soil.
The dry bearings are protected with special seals aganist dust, mud and water.
Because of their low weights,machines from 2,5 working width till 6 mt working width can be carried by tractors 3 point hitch system. The machine can respond to all kind of woing soil conditions with its optional roller types like pipe roller, double row breaker roller,leaf spring roller and heavy duty gear type roller.

The roller is hydraulic foldable over the machine in order to adjust the center of gravity during transport.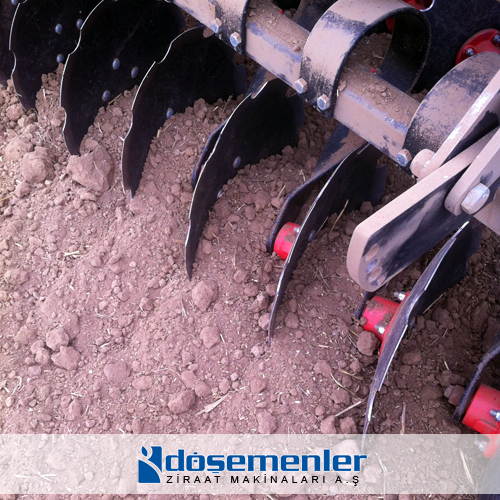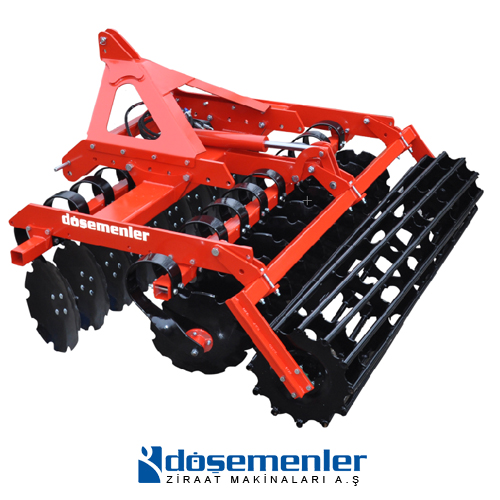 | MODEL | NUMBER OF TINE | WORKING WIDTH | WEIGHT | REQUIRED HP |
| --- | --- | --- | --- | --- |
| HALLAÇ-18 | 18 | 2,25 m | 920 Kg. | 65-75 HP |
| HALLAÇ-20 | 20 | 2,50 m | 980 Kg. | 75-85 HP |
| HALLAÇ-22 | 22 | 2,75 m | 1060Kg. | 85-95 HP |
| HALLAÇ-24 | 24 | 3,00 m | 1130 Kg. | 95-110 HP |
This versatile machine can be used not only in stubbl handling,but also in seed bed preparition after plough. Inspite of its low weight of 1130 kg,with its special materials,it works efficiently without causing any wear or damage on its parts.
Organic intergriends under the surface are also crumbled and mixed to soil in a reliable way.
No service is needed to support the springs and discs,because the discs are mounted to the springs with dry heavy duty bearings. This machine due to its leaf springs with high vibration capability,provides a confortable and steady working ,even in story and moist soils without breaking or accumulating mud to the discs.
Information Form
You can fill the form below in order to obtain detailed information about our products. We will provide any requested information as soon as possible.